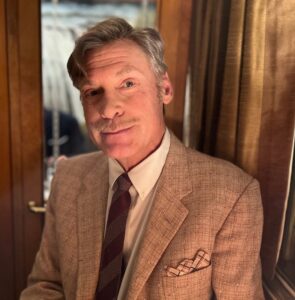 Eric Myers founded Myers Literary Management, LLC in 2017, following two years with Dystel, Goderich, & Bourret, LLC and thirteen with The Spieler Agency. A graduate of UCLA and the Sorbonne, Eric entered publishing as a journalist and author. Books he has written include Screen Deco: A Celebration of High Style in Hollywood, Forties Screen Style: A Celebration of High Pastiche in Hollywood, and Uncle Mame: The Life of Patrick Dennis, all published by  St. Martin's Press.  His writing has also appeared in The New York Times Magazine and Arts and Leisure sections, Time Out New York, Opera News, Art and Auction, Variety, and Quest.
 As an agent, Eric concentrates on non-fiction, especially in the areas of history, biography, psychology, health and wellness, and pop culture. He also is open to memoir from writers who already have a strong platform.
Authors he has represented include Chris Grabenstein (Escape From Mr. Lemoncello's Library), Lydia Kang ( A Beautiful Poison, The Half-Life of Ruby Fielding), David Neilsen (Dr. Fell and the Playground of Doom), Simon Gervais (The Thin Black Line, Hunt Them Down, The Last Protector), Tracey Goessel (The First King of Hollywood: The Life of Douglas Fairbanks), Robert Hofler (Money, Murder, and Dominick Dunne),  Christina Lane (Phantom Lady), Sam Staggs (Finding Zsa Zsa), MAD MEN cast member Bryan Batt (She Ain't Heavy, She's My Mother), Canada's former Chief Supreme Court Justice Beverley McLachlin (Full Disclosure, Truth Be Told), financial advisor Erin Lowry (the Broke Millennial series), former Soviet spy Jack Barsky (Deep Undercover), auto-repair guru Patrice Banks (The Girls' Auto Clinic Glove Box Guide) the team of Lydia Kang and Nate Pedersen (Quackery, Patient Zero),  April Genevieve Tucholke (the upcoming Merry and Hark) Tom and Dorothy Hoobler (the upcoming Why Not Say Yes?) and World War II Resistance fighter Justus Rosenberg (The Art of Resistance) .